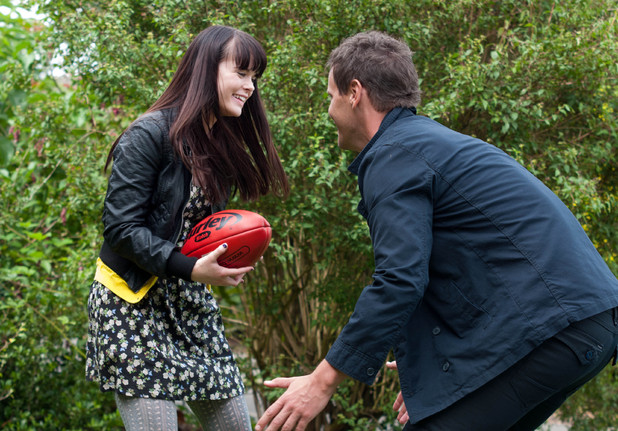 Forbidden love is in the Hollyoaks air for Lacey Kane and her sister's boyfriend, Ally Gorman.
Mysterious Ally (Dan O'Connor) has been worming his way into the Kane family for weeks, and since successfully ridding the house of its alcoholic mother, has set his feet firmly under the table he has put himself head of, despite Callum discovering, and exposing his aliases and ex-girlfriends.
Whilst Callum (Laurie Duncan) is still highly suspicious of the Australian former squaddie, the Kane girls have forgiven and forgotten and fallen nicely back under his spell, in particular his youngest sister, Lacey (Georgia Bourke)!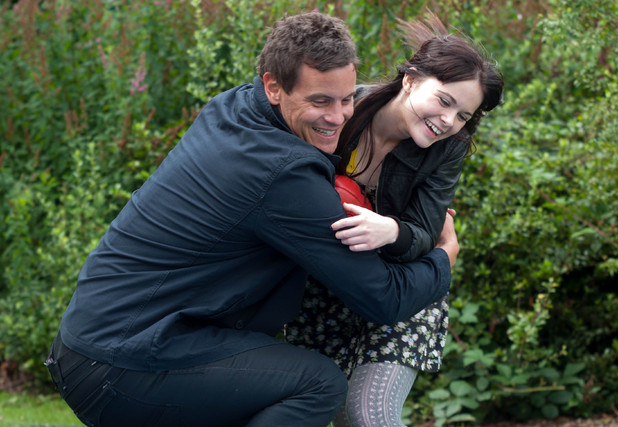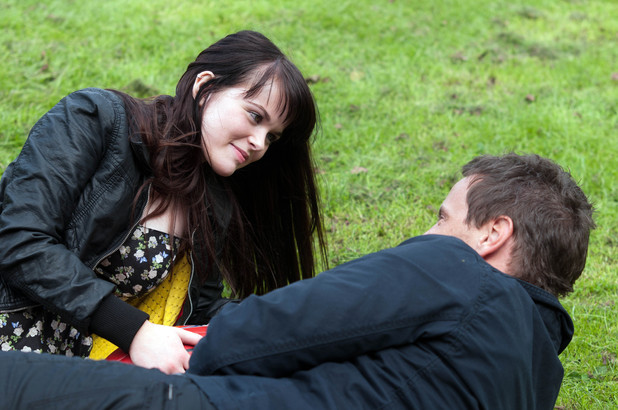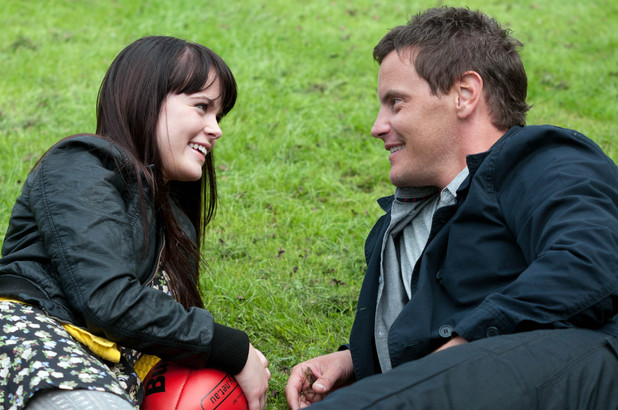 As these pictures show, Ally teaches Lacey how to play Australian football, but it seems that the atmosphere is far more relaxed than it should be as they end up fall to the ground together, and a spark is ignited!
If that wasn't surprising enough, when the pair get home Martha (Carli Norris) finally arrives back, promising that she has given up the booze!
Eager to please her family, Martha accepts Ally's new head of household position, but it is clear to see she is uncomfortable with her new house guest.
Callum convinces his sister to give their mum another chance and arranges a family meeting, but things don't go to plan when, after a meddling Ally deletes a message from Martha on Callum's phone, it looks like the Kane children have been stood up by their mother and let down yet again.
Can Martha convince them that it was a simple misunderstanding, or has Ally got his own way at last and get the kids to decide that was there mums last chance?
Meanwhile, this shocking picture released on the Hollyoaks website today shows there is a wedding on the cards, as Tony (Nick Pickard) gets down on one knee to propose to Cindy (Stephanie Waring) for a second time, but only if she says yes!
Fans of the show will know how Cindy had been having an affair with Rhys (Andrew Moss) behind Tony's back. However, recent episodes have shown a hint of regret and remorse in the usually stone-hearted vixen as she tries desperately to end things with Rhys. We reported last week how Jacqui (Claire Cooper) is close to discovering what has been going on, so time will only tell if there is a happy ever after on the horizon for the former Mr and Mrs Cunningham!
Hollyoaks can be seen weeknights at 6.30pm on Channel 4/ Channel 4 HD.